12 Strong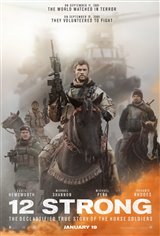 | | |
| --- | --- |
| Score: | 10 / 10 |
| Released: | January 19, 2018 |
| Director: | Nicolai Fuglsig |
| Producer: | Jerry Bruckheimer, Molly Smith, Thad Luckinbill |
| Studio: | Warner Bros. Pictures |
| Cast: | Chris Hemsworth, Michael Shannon, Michael Peņa, Trevante Rhodes, Geoff Stults, Thad Luckinbill, Austin Stowell, Ben O'Toole |
| Genre: | Action/Adventure |
| Length: | minutes |
write a review | read reviews | watch the 12 Strong trailer

12 Strong Overview
After the horrific events of 9/11, Captain Mitch Nelson (Chris Hemsworth) and his elite U.S. Special Forces team of Green Berets are deployed to Afghanistan to begin the crusade against the terrorist group responsible, which has taken over the city of Mazar-i-Sharif. 
The task is both difficult and dangeorus and requires the team to work closely with an Afghan warlord who can assist them in taking down the violent Taliban.
Based on the book Horse Soldiers by Doug Stanton.
Showtimes
(No Showtimes Listings)